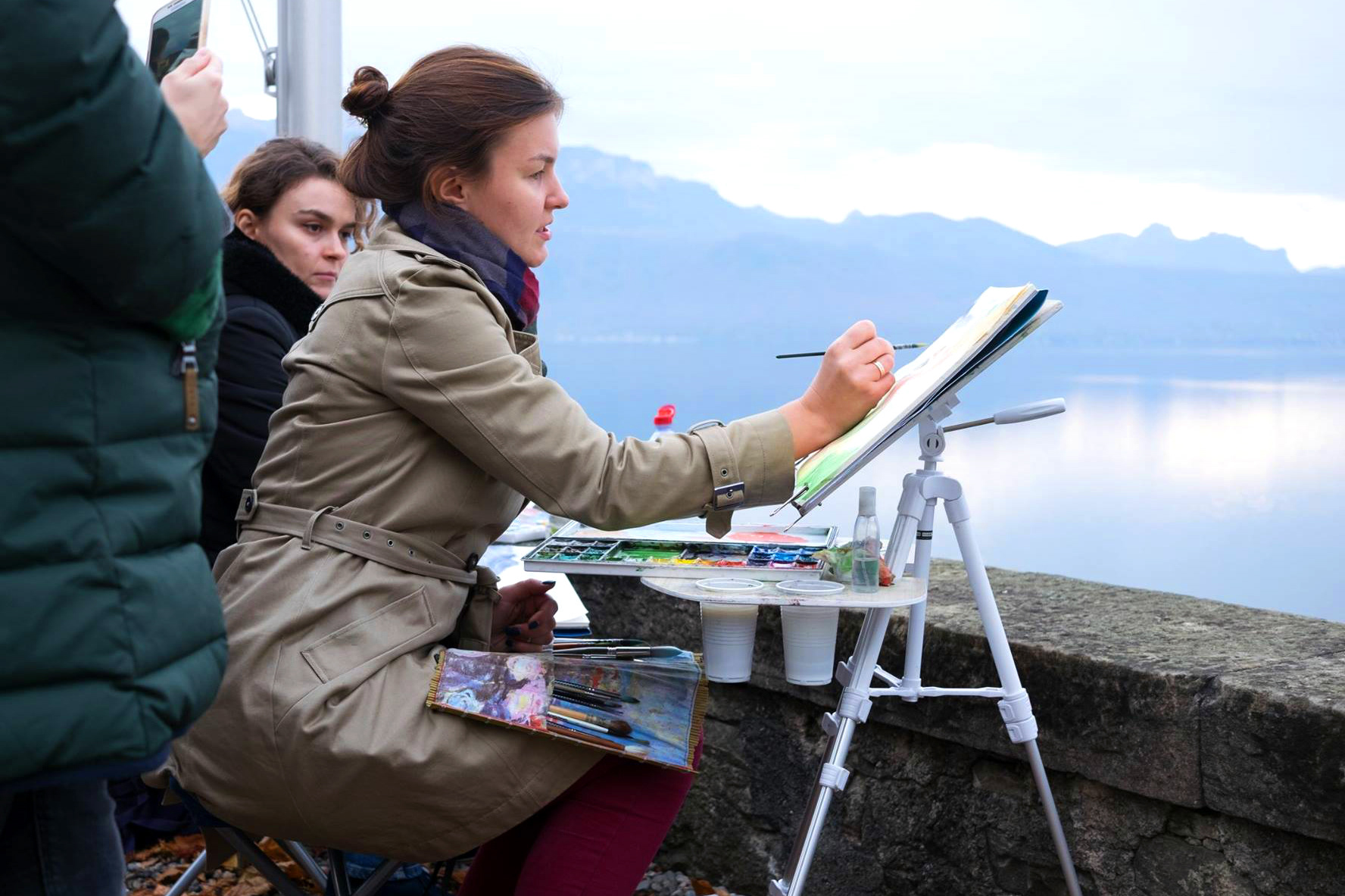 I am a Russian watercolorist living in Switzerland. I get inspired of discovering new places so each time I travel, I create a new series of paintings. The main subjects for me are water, boats and nature. Most of the time I paint "en plein air", so there are only real things which I saw with my own eyes.
  I have a Master degree in Industrial Design and I made a long way becoming an artist. I have already worked as an interior designer, decorator, muralist and 3D modeler. Now I'm focused on painting and work as an art teacher at school permanently. During my free time, I give art workshops for children and adults.
  As of 2018, I am a member of the International Watercolour Society (IWS) in Switzerland and since 2019 - a member of Association Romande for the Valorisation of the Arts (ARVA).  In November 2019 I opened my art school "Artiloft" in Renens VD, Switzerland.                                       
My paintings are located in private collections in the United States, Canada, Great Britain, Australia, Austria, China, Russia, Turkey, Indonesia, Germany, France, Italy and Switzerland. 
EXHIBITIONS
"Unicréa" La Sallaz, Switzerland - November 2015
"The house with a lighthouse"; Charity event; Lausanne, Switzerland - December 2017
"Fabriano InAcquarello"; Fabriano, Italy - May 2018 - present (every year)
"Watercolour Biennale"; Lausanne, Switzerland - June 2019
"Watercolor Art Zurich"; Zurich, Switzerland - August 2019
"Autour de vigne et du vin"; Vevey, Switzerland - July-August 2019
"Artbox Gallery Projects"; Zurich, Switzerland - August 2019
ART3F Salon d'Art Contemporain; Lyon, France - September 2019
"Acquarell'Nyon"; Nyon, Switzerland - October 2019
"Montreux Art Gallery"; Montreux, Switzerland - November 2019
"Croquis de Bernex"; Bernex, Switzerland - January 2020

Solo exhibition "Lac Léman vu par K. Astakhova"; Lausanne, Switzerland - February-March 2020
EDUCATION
Moscow State Academy of Arts and Design named after Stroganov - Master, 2012
Nuova Accademia di Belle Arti, Milan - Specialist, 2008
Chelsea College of Art and Design, London - Summer Internship, 2004


CONFERENCES AND EXCURSIONS
Guide at the exhibition of Tretyakov gallery at Rumin Palace - Lausanne, 2014
Speaker on a series of lectures on "Russian artists in exile" (Riviera Russe) - Lausanne, 2014
Speaker at the public discussion on being an independent artist (Creative Mornings) - Lausanne, 2018
Interpreter at Prix de Lausanne - Since January 2015 - present