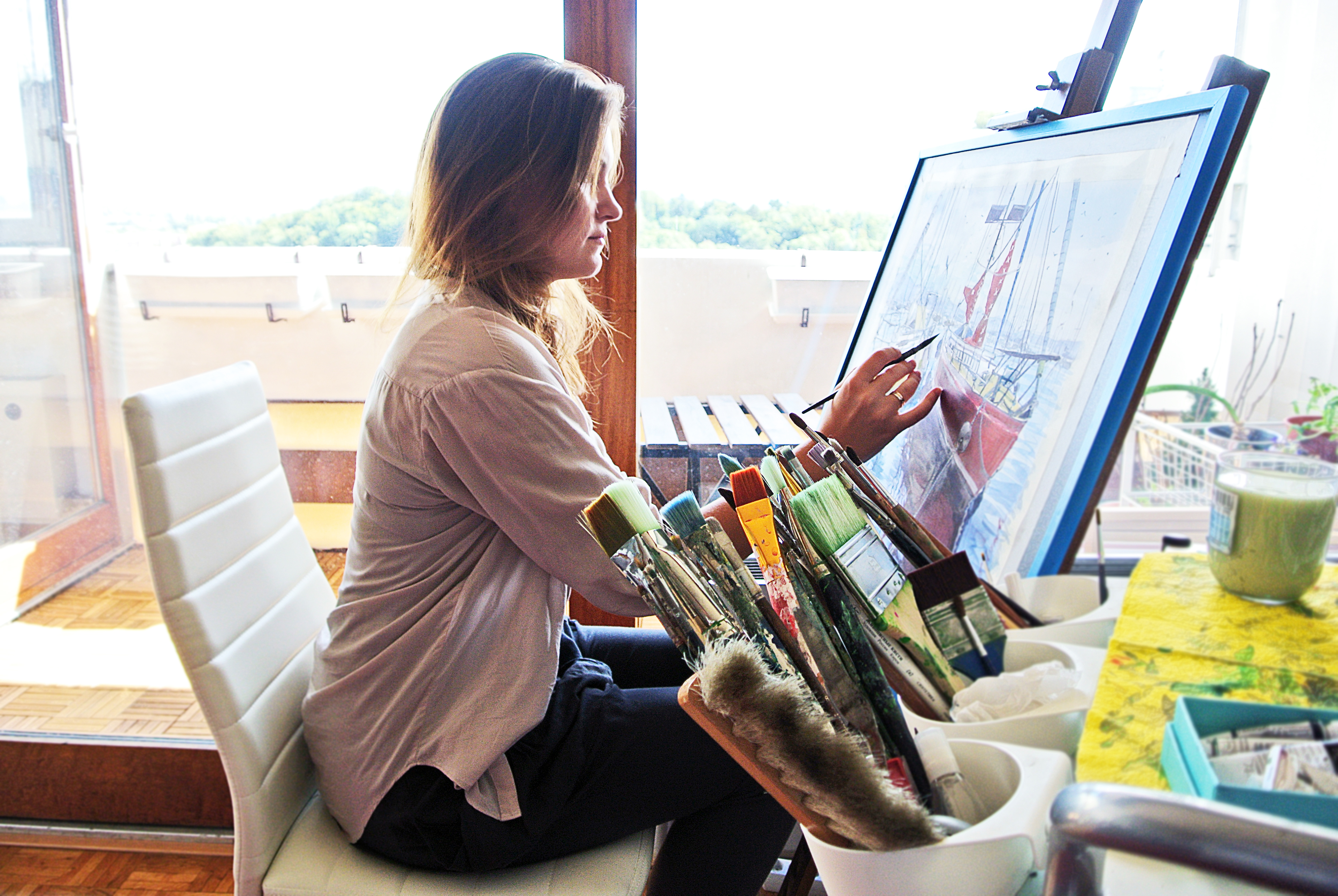 I started drawing since 10 month from my birth, most of all I enjoyed to draw people. I always knew I should be an artist.
In 2005 I graduated "Introduction to Art and Design" summer course in Chelsea College of Art and Design, London. In 2006 I entered Moscow State Academy of Art and Design named after Stroganov on product design facultet where I got a master's degree in 2012. During summer 2007 I graduated "Product Design Studio" in Nuova Accademia di Belle Arti, Milano. During 2009 year I finished 3dsMAX, V-Ray and ArchiCAD certified courses at Bauman Moscow State Technical University.
During 2009-2010 year took part in Neuhaus Gallery interior, Project Next Concept office and Slide contests. I also took part in Moscow Interior Exhibitions with Mosfilm Studio Project, Moscow Ecological Exhibition with my Fanfan La Tulipe Flowerstall project and was the participant of many more various occasions.
In 2012 year I have made a government architecture & interior project for a public children's club "Gorki" near Moscow which was officially opened in april 2013 and I was awarded a national diploma for the important contribution in development of the region.
During autumn and winter 2013 gave digital drawing and V-Ray extended visualisation master classes in Moscow State Academy of Art and Design named after Stroganov.
Now I work as an independent artist and an art teacher at school on permanent basis. During my free time I give art workshops for children and adults. I get inspired of exploring new places so each time I travel I make a new series of paintings. The main subjects for me are water, boats and nature. Most of the time I paint "en plein air" so there are only real things which I saw with my own eyes.
In November 2015 I participated at "UniCréa" exhibition in La Sarraz, Switzerland with my watercolor series "Lac Léman en aquarelle" and "Villes et Fleurs".
During December 2017 I sold my artworks at the fundraising event to support children's hospice "Dom s Mayakom" in Russia. 
In May 2018 I represented Switzerland at the biggest international watercolor exhibition "Fabriano in Acquarello" in Italy.
My paintings are located in private collections in the USA, Canada, Great Britain, Australia, Cyprus, Russia, Turkey, Indonesia, Germany, France, Italy and Switzerland.